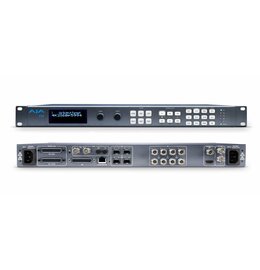 AJA FS4
The Ultimate 4K Toolbox
FS4 is a 4-Channel 2K/HD/SD or 1-Channel 4K/UltraHD frame synchronizer and up, down, cross-converter. AJA's flagship frame synchronizer and converter offers incredible versatility and connectivity in a sleek 1RU frame for all your 4K/UltraHD and 2K/HD/SD conversion needs. Offering a wide range of connection options for both video and audio, FS4 can do the work of four separate devices in 2K/HD/SD or combine all processors and channels together for maximum flexibility for 4K/UltraHD productivity.
Single Channel Mode
Bulletproof reliability. Incredible conversion power.
4K/UltraHD delivery, processing and synchronization is fast becoming the next standard, and FS4 gets you there with a wealth of digital video connectivity including Quad 1.5G, Dual 3G, Quad 3G over 3G-SDI and 12Gb/6Gb over optional 12G-SDI BNC and 12G-SDI LC Fiber SFP modules.
In single channel mode, FS4 will up scale your HD or SD materials to 4K/UltraHD and back, with a huge array of audio channels over Fiber, 3G-SDI, AES, and MADI for an incredible 272 x 208 matrix of audio possibilities.
Four Channel Mode
Welcome to Four Channel Mode.
In four channel mode FS4 provides incredibly powerful multi-channel conversion with up to 4 channels of simultaneous processing for 2K/HD and SD signals. Powerful processing allows Region of Interest (ROI) scaling, color correction, proc amp controls, motion adaptive deinterlacing and much more.
Multi-channel density in a 1RU Chassis. Space, energy and power
possibilities preserved.
No specifications found...