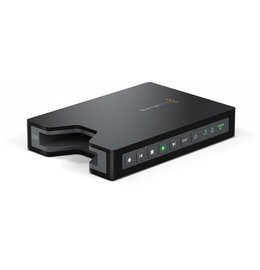 Blackmagic Design Hyperdeck Shuttle 2
SSD Field Recorder
Now Available with DNxHD codec! Hyperdeck Shuttle 2.
Product Highlights
Uses Most 2.5" SATA SSD Drives
Records Uncompressed HD QuickTime Files
HD-SDI Input & Output
HDMI 1.3 Input & Playback
Internal Rechargeable Battery
12V Power Input
Simple Front-Panel Playback Controls
Machined Aircraft-Grade Aluminum
The 
Blackmagic Design HyperDeck Shuttle Video Recorder
 records uncompressed 10-bit HD and SD video as QuickTime files from any SDI- or HDMI-enabled camcorder. The extremely compact recorder accepts a 2.5" SATA solid state drive (
sold separately
) for data storage. Simply by bypassing the camera's compression, this allows you to get the highest-quality output possible from camcorders that typically record video as highly compressed HDV, AVCHD, or another similar codec.
  HyperDeck Shuttle is designed for those projects for which even high-bit-rate ProRes codecs are too compressed for your needs. Perhaps you're shooting on a green screen and you'll need to be able to pull the cleanest key possible in post, or you're capturing background plates for special effects. Whatever the application, capturing to a supremely portable device with interchangeable media (which, with each succeeding generation, will grow in capacity as prices drop) is about the most elegant solution imaginable for recording uncompressed 4:2:2 HD video.
  The device features HDMI and SDI outputs for local playback from the device to an appropriate monitor on-set or in a screening room. HyperDeck shuttle features both a rechargeable internal Li-ion battery and a 12V DC power input that allows you to plug the device into a wall socket for continuous power. 
Note!
The HDMI output from DSLR cameras such as the Canon 5D/7D and Panasonic GH2 is intended for monitoring only, not for recording. 2.5" SATA SSD drives are sold separately. Off-the-shelf SSDs can be used as long as they are fast enough for uncompressed 10-bit capture (158 megabytes/second is required for 10-bit uncompressed 1920 x 1080 @ 29.97fps).
 
Go Anywhere, Record Everywhere
 With a compact and incredibly sturdy design, HyperDeck Shuttle is machined out of a solid block of aircraft grade aluminum. That means you get a design with the strength to go anywhere. Take your HyperDeck Shuttle into the field, on set, to live events, or even on your extreme sport shoots. With an internal battery, just recharge and go. The possibilities are virtually endless. There's no need to haul around a computer, because the lightweight HyperDeck Shuttle does it all – and yet fits easily in your backpack. You can even add HyperDeck Shuttle to your tripod along with your camera
 Solid State Disk (SSD) TechnologyThe 2.5" solid state drive (SSD) slot in the HyperDeck Shuttle gives you blazing-fast speed, low power consumption and totally silent operation. Now you can eliminate complicated and expensive disk arrays. A single common SSD can record uncompressed video effortlessly. Removable cards simply cannot match that kind of performance. With no moving parts, SSDs are unbelievably robust and can easily handle shocks and vibrations that would destroy conventional hard drives or videotapes
Perfect Quality
 Compression destroys image quality. Now you'll never need to compromise your quality or your creativity, because you can bypass the camera compression to get perfect uncompressed 10-bit SD/HD video. Create the sharpest VFX plates for match moving, compositing, and more, using affordable professional camcorders. Get deep dynamic color range for color correction and do perfect keying without jagged edges caused by compression, even on shots like hair and multi-colored patterns
 Connect to Professional or Consumer Cameras
 With SDI and HDMI inputs and outputs, HyperDeck Shuttle works with virtually every camera, deck, or monitor. Effortlessly plug into monitors or televisions for instant on-set preview. Use HyperDeck Shuttle as the video playback source for digital signage systems or switchers. Imagine using HyperDeck Shuttle connected to a live production switcher for recording events, and then using it for live playback. HyperDeck Shuttle is so small, you'll take it everywhere
 Unparalleled File Compatibility
 Why be locked to using just one NLE or color grading system with a proprietary codec that could become obsolete at any time? HyperDeck Shuttle captures universally compatible uncompressed QuickTime files that can be used with all popular software packages like Final Cut Pro, Premiere Pro, After Effects, Resolve, and Apple Color, both now and into the future. You're always free to use the editing, color correction, and finishing tools that you choose, and that are best for your clients and your jobs. That's a true open format 
Faster Cost-Effective Workflows
 HyperDeck Shuttle improves nearly every step of your production workflow pipeline. For quick on set QC or client preview, connect HyperDeck Shuttle to a projector or television via the HDMI or SDI outputs. You can even edit directly from the SSD with no digitizing or file copying. Simply plug the SSD into your laptop or desktop via a standard eSATA dock. Motion graphic artists can line up VFX plates in full 10-bit uncompressed quality, right on location. SSDs are not much bigger than a credit card, so they can be sent anywhere in a simple overnight shipping envelope 
Familiar VTR Feel
 HyperDeck Shuttle has standard deck-style function buttons, clearly marked and easily accessible along one side, as well as LEDs that indicate input signal lock, recording status, and battery status. With the affordable HyperDeck Shuttle you won't be tying up your expensive VTRs, but you'll still be in familiar operating territory. There are seven buttons for local control of the device: Record, Stop, Next Clip, Previous Clip, Play, Display (which activates display mode), and Power. In addition, there are LED indicators for Video (showing a valid video input is present), SSD (showing reads and writes), and for Battery Level (showing four levels of the internal battery)
Video Inputs
1x HD/SD-SDI (10-bit) via DIN 1.0/2.3 connector
1x HDMI 1.3 type A connector
Video Outputs
1x HD/SD-SDI (10-bit) via DIN 1.0/2.3 connector
1x HDMI 1.3 type A connector
Audio Inputs
SDI: 16 channels embedded in SD and HD
HDMI: 8 channels embedded in SD and HD
Audio Outputs
SDI: 16 channels embedded in SD and HD
HDMI: 2 channels embedded in SD and HD
SSD Interface
1x 2.5" SATA 3Gb/s
Computer Interface
1x Mini-B type USB 2.0 connector for initial setup, firmware updates, and HyperDeck Utility software control
Controls
7 buttons for local control of HyperDeck Shuttle, or use USB 2.0 high-speed interface
Configuration
Use USB 2.0 high speed interface
SD Format Support
625/25 PAL and 525/29.97 NTSC
480p60 and 576p50 via HDMI only
HD Format Support
720p50, 720p59.94, 720p60, 1080i50, 1080i59.94, 1080i60, 1080PsF23.98, 1080PsF24, 1080PsF25, 1080PsF29.97, 1080PsF30, 1080p23.98, 1080p24, 1080p25, 1080p29.97, and 1080p30
SDI Compliance
SMPTE 259M, SMPTE 292M
SDI Metadata Support
HD RP188 and closed captioning
Video Sampling
4:2:2
Audio Sampling
Television standard sample rate of 48 kHz and 24-bit
Color Precision
10-bit
Color Space
REC 601, REC 709
Multiple Rate Support
SDI and HDMI switches between 270 Mb/s SD-SDI and 1.5 Gb/s HD-SDI
| | |
| --- | --- |
| Battery | Rechargeable built-in lithium-ion polymer battery |
| Hard Disk Space | 12V universal power supply included with international socket adapters for all countries |
No specifications found...