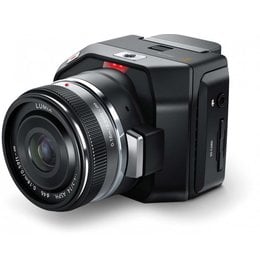 Blackmagic Design MICRO Cinema Camera
Blackmagic Micro Cinema Camera Miniaturized digital film camera for remote use with PWM and S.Bus for use with model airplane remote controls. Includes Super 16 size sensor with 13 stops of dynamic range and RAW and ProRes recorder.
Blackmagic Micro Cinema Camera

Our Pocket Cinema Camera has been popular because it's an incredibly tiny digital film camera that's super portable. It does not even look like a digital film camera!

It's a great handheld design, however, it's also been used for shooting remote shots and it was not really designed for that. So we have been working on a digital film camera that's specifically designed for remote shooting, and it's even smaller!

The result is the Blackmagic Micro Cinema Camera, which is a miniaturized Super 16mm professional digital film camera with a new expansion port that lets you use PWM and S.Bus model airplane remote controls to operate the camera wirelessly for capturing action anywhere.

What this means is you can use the same low cost radio control gear that hobbyists use for model aircraft and quadcopters. Normally these receivers plug into "servos" which generate movement when the user adjusts a knob on the hand held transmitter. These connections use a voltage called PVM and we have the same connection on the Micro Cinema Camera. So this means you can plug into the camera and control the camera remotely.

You can even map what camera feature you want on what channel. So you could map the lens to adjust iris or focus. You could use a channel to start and stop recording, so you don't fill the SD Card with RAW or ProRes files before you are ready for your shot!

To see what the camera is doing, it has a full sized HDMI connector and it even has composite NTSC/PAL out so you can use a low cost hobbyist video transmitter to see what the camera is doing and confirm its recording. Imagine having live feeds back from the camera when its in all kinds of hard to reach locations. I think its going to be exciting to see where this camera is mounted and what kinds of shots it gets.

Because it has an MFT lens mount you can put all kinds of really professional lenses on it, and adapt it easily to other lens mounts. On this camera we even put the buttons on the front of the camera so when it's mounted on a wall or in a car, you can just start recording from the front. It also has a tally light on the front so you can see if its recording.

Image quality wise, its a true digital film camera because it has a wide 13 stops of dynamic range. This means it's a big improvement in image quality over consumer "action-cam's" so you can get all those high energy shots, without the consumer look.

The Blackmagic Micro Cinema Camera will be available in July for $995.

https://www.blackmagicdesign.com/products/blackmagicmicrocinemacamera
No specifications found...