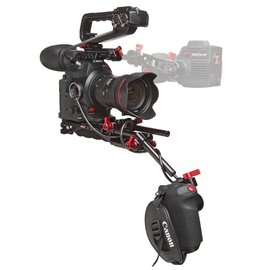 Canon C100 Mark II with Zacuto Recoil Rig
C100 Mark II with Zacuto Recoil Rig
This Special Offer includes:

Canon C100 Mark II Body + Zacuto Recoil Rig including:

VCT Universal – this baseplate has a built-in, curved shoulder pad, a v-wedge tripod connector (with ¼" 20 and ⅜" 16 screw option), removable, extendable 6.5" iris rods and rows of ¼" 20 screw holes along the sides for accessories. The recessed rod mount offers maximum accessory capable space under your camera lens.

Zgrip Relocator – this articulating handgrip incorporates our Grip Relocator for your Canon C100/300 removable control grip. It provides full articulation via lever and our exclusive right-angle cable connects to the port on your camera. Trigger on/off control, lens aperture control, waveform, 1:1 zoom, zebras and more.

C100 Mark II Helmet - this includes the C100 Mark II Helmet, a 5" Z-rail with a 15mm rod lock at the end, and a double jawed Z-rail lock. The Z-rail screws to the top of the Helmet, giving you a rod lock to mount the Axis Mini or other 15mm accessories. The double sided Z-Rail jaws allow you to attach the Canon top handle securely to the Z-Rail.


No specifications found...