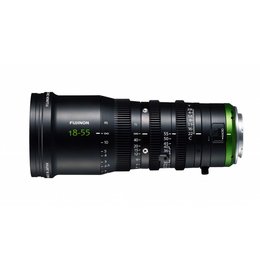 Fujinon Cine 18-55 T/2.9 MK E Mount Lens
Fujinon Cine 18-55 T/2.9 MK E Mount Lens
FUJINON MK Zoom Specs
Contact us for Pre-Orders. Deposit of
495 Euro
will put you on the 'first ordered, first serve' list.
First shipment expected Late March/April 2017. It might be very! wise to place your Pre-Order ahead of NAB.
PRODUCT HIGHLIGHTS
Covers Super 35 Format
Sony E-Mount
Consistent T2.9 Aperture Over Zoom Range
3 x Standard 0.8 MOD Gears
Clickless 9-Blade Iris
200° Focus Rotation and Macro Mode
Color Matched to Fujinon HK/ZK/XK Series
85mm Front Outside Diameter
Weighs 2.16 Pounds
Flange Focal Distance Adjustment
The Fujinon MK18-55mm T2.9 Lens in E-Mount is a lightweight cine-style zoom lens for E-mount cameras with a Super 35mm-sized sensor. It features a mechanical design with three independent lens control rings: focus, iris, and zoom. Each ring incorporates a cine-style gear with a 0.8 MOD for interfacing with standard cine -style lens accessories. The focus ring features approximately 200° of rotation, which provides room or precise focus pulls, and the iris is clickless, enabling smooth iris pulls. The lens also incorporates a macro mode for close focusing capabilities.
The lens is color matched to other Fujinon lenses such as the HK, ZK, and XK series, which enables smooth intercutting between lenses. The 85mm front enables use with many cine-style matte boxes via use of optional step up rings (rings not included). The lens weighs only 2.16 pounds, which is fairly light for a cinema zoom that holds focus and aperture throughout the focal length range. It is designed for camera's with a Sony E-mount, so it has a short flange focal distance, but the lens allows for flange focal distance adjustment so you can fine tune it to the camera you are using the lens on.
T2.9 to T22 aperture with 9 iris blades for attractive bokeh
The 28.5mm diameter image circle covers the 3-perf super 35 format with a 16:9 aspect ratio
Industry standard 0.8 film pitch gears for focus, zoom, and iris control
The gear rings positions for focus, zoom, and iris are located at the same position on both lenses in the MK series, making switching between the two zooms quick as you don't have to adjust the position of lens accessories
Both lenses in the MK series have the same weight and length so here is no need to rebalance your camera when you change from one lens to the other
200° focus barrel rotation
No shims are required to adjust the flange focal distance as this lens has a built-in adjustment mechanism
Macro focus function available
Following is a part of fdtimes.com article. For the full article visit: 


http://www.fdtimes.com/2017/02/22/fujinon-mk-18-55-50-135-t2-9-zooms/
Fujinon's MK 18-55 T2.9 is an affordable, lightweight, compact, E-mount zoom lens intended for the rapidly growing independent owner-operator market. This is a new area for Fujinon, whose HK Premiers are the pinnacle of their 35mm cine zoom line. ZK Cabrios are the handheld compact zoom family members with removable servo handgrips. The XK Cabrio 20-120 is a "slower" but longer PL-mount cine zoom and was Fujinon's first foray into affordable zoom lenses.
The MK 18-55 T2.9 is the first in a new series of Fujinon affordable E-mount zooms. (MK 50-135 T2.9 comes next.)
The MK zoom only comes in E-mount (18mm flange focal depth) and represents a growing affirmation of a lens interface that was introduced by Sony.


Users can attach the MK 18-55 zoom onto Sony FS5, FS7, FS7 II, FS100, and FS700 cine cameras as well as Sony still cameras like the a7 series and a6500. I expect there will be more to come.
What we're seeing is an evolution of the affordable, aspirational  DSLR cine market whose independent content creators are increasingly asking for more. MORE? As Oliver Twist would have said were he a DP, "Please sir, we want more—more affordable, less breathing, parfocal, straight tracking, no ramping, 0.8M gearing." (Parfocal maintains focus throughout the zoom range. Breathing looks like a slightly annoying zoom when you're focusing. Tracking keeps the center of the frame centered throughout the zoom.)


The MK focus scale is helpfully marked in both Metric and Imperial. You don't have to swap focus barrels to go from meters to feet.
This is a purely mechanical zoom lens. It's not your father's ENG lens repurposed for cine. It's totally opto-mechanical. There are no electronic controls to get in the way. Auto and servo controls are absent. Of course, you can add lens motors to mesh with the industry-standard 0.8M focus, iris and zoom gears for wireless control and I'm sure someone will come up with aftermarket handgrip controls. But meanwhile, this is a quintessential, archetypal documentary style zoom lens.
It reminds me of classic 16mm documentary cine zooms and is about the same size and weight. Lest anyone whine about lack of lens markings on the camera right side, remember that you always solved this in the past with a strip of white tape and a Sharpie Fine Point Marker.
No specifications found...