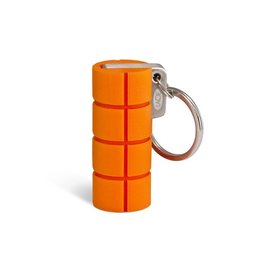 LaCie RuggedKey 32GB USB 3.0
Default
Key for a Rugged Lifestyle
100-meter drop-resistant 
USB 3.0: Up to 150MB/s
Secure AES 256-bit encryption
Sky-high Drop Resistance
The LaCie RuggedKey is built to withstand accidental drops from heights far above what you'd encounter on your way to the office. Its rubber construction is 100-meter drop-resistant. That means ultimate protection for your key – and your data – for all of life's little stumbles. 
Rugged for Everyday Disasters
Life's an adventure – and disaster can strike at any turn. With the RuggedKey, the last thing you need to worry about is your data. Heat and cold resistance protect your data in the most extreme of climates, whether you're trekking across a scorching desert or braving the frozen tundra. Furthermore, it's IP-54 certified for resistance to damage from dust and water projection. The RuggedKey is the most portable storage in the LaCie Rugged family yet, and the best on-the-go protection for the real world.
Full-throttle Transfer Speeds
Bigger files need better speed. With the RuggedKey's USB 3.0 interface, you get speeds up to 150MB/s for daringly fast file transfers. USB 3.0 represents an enormous speed increase from USB 2.0, and best of all, since it's backward compatible with USB 2.0, there's never any worry about connectivity.
Software Secure
Hardware rugged, and software secure – the RuggedKey key protects your data from the inside with AES 256-bit encryption. Easily create a password-protected area on the key to securely store all of your confidential information. Ultra-secure AES 256-bit encryption technology means the RuggedKey is secure from the inside out.
Item Number : 

9000146

9000147

9000399

Capacity : 

16GB

32GB

64GB

 
 
Interface : 
USB 3.0 (USB 2.0 compatible)
 
 
Interface Transfer Rate : 
USB 3.0: up to 5Gb/s
USB 2.0: up to 480Mb/s
 
 
Size : 
53 x 27 x21mm / 2.09 x 1.06 x 0.83 in.
 
 
Weight : 
30 g / 1.06 oz
 
 
System Requirements : 
Computer with a USB port (optimized if USB 3.0)
Latest version of Windows® XP, Windows Vista®, Windows 7 / Mac® OS X 10.6, 10.7 (Mac Intel® only for LaCie Private-Public software) 
 
 
Box Content : 
LaCie RuggedKey
 
 
Comments : 
* 1GB = 1,000,000,000 bytes. Total accessible capacity varies depending upon operating environment.
** For optimal performance, the drive must be connected to a USB 3.0 host port. Calculations are based on average write time. Transfer rates vary slightly from one drive to another.
No specifications found...