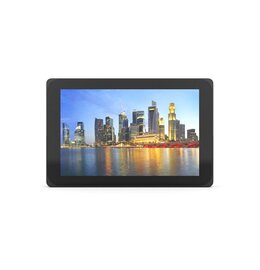 SmallHD DP7-PRO OLED
DP7-PRO OLED 7.7-inch Field Monitor Input: SDI, HDMI, Composite
DP7-PRO OLED
7.7-inch Field Monitor
Input: SDI, HDMI, Composite
Output: SDI, HDMI 
Display: OLED, 1280x800, 8-bit
Software: Waveform, Scopes, Real-time Custom 3D LUTs, Image Capture/Overlay, Focus Assist, False Color, Zebra, and more...


The most color accurate HD field monitor.
OLED displays have much higher color reproduction capability ("gamut") compared to LCD displays. This gives the DP7-PRO the required range to accurately display industry standard color spaces such as REC 709 for broadcast/web and DCI-P3 for digital cinema. 


The DP7-PRO OLED field monitor matches the color capability of color grading monitors like the Flanders CM170.


Complete color control via 3D LUTs.
In addition to many camera specific presets for REC 709, the DP7-PRO is able to detect and display your custom 3D LUTs from any color grading application, allowing you to view a graded image in real time.
A truly amazing picture.
The DP7-PRO OLED Field Monitor has great contrast and rich color. This is a result of OLED's ability to produce "true black" (no "glow") and a high color gamut. Combined with the color engine of the DP7-PRO, operators are able to produce the image they need (or their client wants).


The X-Port factor.
The DP7-PRO High Bright and OLED Field Monitors have a discreet expansion port on the back that allows for clean, bulk-free integration with accessories such as the Paralinx Wireless Dock.


Work faster with Smart Keys.
The DP7-PRO Field Monitor allows operators to
assign up to 24 functions to "Smart Keys" for
instant access. This prevents the need to enter the
menu system, saving time & sanity. 

Detailed customization of features assigned 
to Smart Keys is accessed with an intuitive
press-and-hold operation.

resolution
1280x800
luminance
250 Nits (Will appear brighter due to high contrast)
diagonal
7.7in
color gamut
100%
contrast ratio
10,000:1
color depth
8bit
viewing angle
80º/80º/80º/80º
interface
2 Scroll Wheels + Touch Screen
dimensions
7.9in x 5.1in x .9in
weight
<1.2lbs
power consumption
16 watts
inputs
2 x SDI(BNC)
1 x HDMI (With Lock)
1 x Composite(Hirose Breakout Cable to BNC)
1 x Power(Input voltage 10-24v DC—locking Hirose connector:4pin)
1 x Stereo line in 4-pin Hirose *future firmware 
1 x Mini-USB(for Firmware updates)
1 x Battery Input(4-pin Molex connector for battery plates)
1x SD Card Slot
outputs
1 x SDI(BNC)
1 x HDMI
1 x 1/8" Mini Head phone Output *future firmware
2 x Built-in speakers *future firmware
sensors
4 x Proximity sensors on front (for detecting users hands for intelligent menu assist)
1 x Accelerometer (Horizon indicator)
1 x Temperature sensor (to sense internal temp of DP7 to avoid potential damage in extreme situations)
user interface
2 x Ergonomic scroll wheels in each top corner
physical
5 rugged 1/4"20 thread points on all sides
All ports recessed for protection
2 x Tally Indicators
signal types
HDMI
SDI
Composite
x-port accessory
slot
No

scopes
Waveform (PIP, Full Screen)
Vectorscope (PIP, Full Screen)
RGB Parade (Full Screen)
Histogram (PIP, Full Screen)
focus assist
Intensity Adjustment
Highlight Color Select
Background: Color/B&W
zebra
2x User selectable ranges
false color
Industry-standard scales + on-screen guide
frame guides
Aspect
Crosshair
Crosshatch
User-Defined
color controls
Yes
color bars
Yes
blue only
Yes
ui lock
Yes - Physical switch
smart keys
Fully customizable
ui
Help Text prompts

input -> output
HDMI In -> SDI 1, SDI 2 & HDMI Out
SDI 1 -> HDMI & SDI 2
dual input -> output
SDI & SDI
SDI & HDMI
fx passthru
Future Firmware

included with dp7
Locking Hirose 10v-28v DC connector with AC adapter
optional power accessories
Locking Hirose to 4-Pin XLR Adapter
Locking Hirose to bare wire (DIY kit)
Locking Hirose to D-Tap/P-Tap
V-Mount Battery Plate
Gold Mount Battery Plate w/on screen battery indicator
No specifications found...